Sorry guys, I'm ALL KINDS OF into Diablo 3 at the moment which I'm sure most other people are. So, naturally I haven't been updating here about WoW...because I haven't been IN wow.
Thoughts on Diablo:
This is my first time actually playing a Diablo game. I briefly played 1 and 2 for maybe all of 5 MINUTES. I am really enjoying D3 though. I originally made a witch doctor, which was fun but not really a playstyle a drunk like me was looking for at the moment. So, about 10 levels in I decided I wanted a melee class. I love melee. So I made a Barbarian and I got her up to almost 60 now, She's pretty damn fun and I enjoyed bashing heads and generally not giving a fuck. Then, I decided to sample a different flavor. I made my first Wizard and HOLY SHIT they are so much fun. Seriously, it makes playing my barbarian seem like a boring shart fest. Anyway. His name is Namida (Japanese for tears) because I was listening to this song:
It's kind of my inspirational song at the moment >_>
SO HERE IS NAMIDA!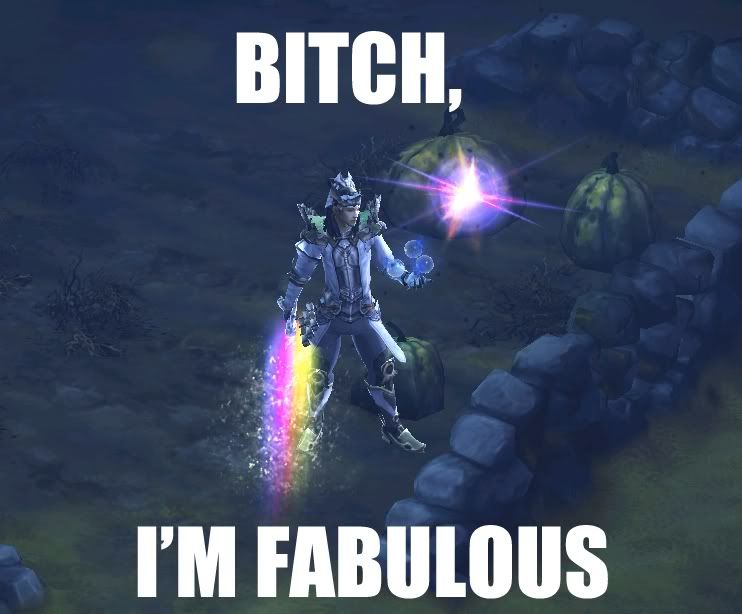 YES. THAT IS A RAINBOW SWORD. YES HE IS HOLDING WHAT APPEARS TO BE BUBBLES, YES THAT LOOKS LIKE SOME PINK, FAIRY FUCK FLOATING NEXT TO HIM.
And really, when I get my hands on that pink dye, it's going on EVERYTHING.
So check out this sword, it's really amazing. I shat myself when I saw it:
Okay so....first of all, it's a legendary. Secondly, this was way more bitchin' than what I had. Thirdly the description uses the word FANTASTICAL, Which is probably one of my most favorite words. Fourthly, Unicorn Smiles (Fuck yeah!), Bright Rainbow Colors ( FUCK YEAH!), Shooting Star Wishes (OH JESUS CHRIST YEAH) and Teddy Bear Giggles (FUCKKKKKKKKKK YEAHHHHH!)
ALSO... THIS SWORD TRAILS GLITTER BEHIND YOU WHEN YOU MOVE.
I will never get rid of this thing. Ever.